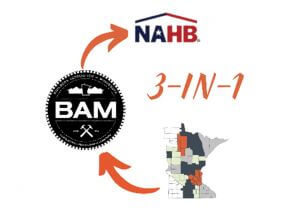 What BAM does for our members?
Voice at the State Capitol
Lobby to pass laws to protect our members from harmful legislation that could hinder their businesses.
BAM Government Relations Committee – fights the political battles and when he BAM Legal Action committee steps in to protect the industry with litigations.
What NAHB Does for our Members and Consumers?
Use all legal means necessary to protect property rights
Fight onerous regulations that hurt home builder, remodelers & consumers.
Ensure an adequate supply of credit for new home production.
Defend the low-income housing tax credit.
Member Only Benefits from both BAM & NAHB
New within the last few years, BAM has provided high-quality contract templates which are drafted by attorneys that specialize in residential construction and updated when the laws change
Subcontractor Agreement
Subcontractor Pre-Lien Notice
Master Subcontractor Agreement
Remodeling Contract
Standard Construction Contract with and land purchase and without land purchase
Change order template
These are accessible for members once they sign into the BAM website.
Members Only Rebate Program
For the minimal effort of informing us about the home construction products you use and when you close on a home or project, you'll be putting money back in your pocket. Both Builder and Remodeler companies, no matter how large or small, qualify for the program. When you participate in the program, you can count on receiving checks every quarter! Click Here to learn more.
NAHB has a variety of discounts from Manufactures like General Motors, Dell, Liberty Mutual Insurance Company.  There are endless Vacation Rentals as well as savings on Car Rentals. These are through their Membership Advantage Program.
Mid-Minnesota Builders Association
P.O. Box 27 • Nisswa, MN  56468
(218) 829-4982 • www.midmnba.org
The Mid-Minnesota Builders Association (MMBA) of Crow Wing, Wadena and lower Cass Counties, fundamental purpose is to foster a healthy business environment for the home building industry, and to engage in activities that strengthen competitiveness, professionalism, and the public's confidence in the industry. The MMBA represents more than 150 members, involved in and supporting all phases of the home building industry.
Stick With A Pro!
Your resource for reputable Licensed Builders and Contractors
Serving Crow Wing, Lower part of Cass and Wadena Counties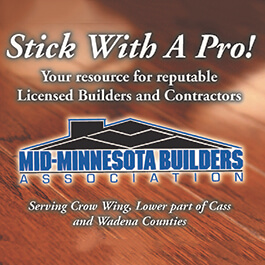 MMBA Members receive a free membership to NPP
National Purchasing Partners
Reduce business costs with NPP.  Sign up for a free membership and get exclusive discounts on a catalog of items your business uses every day.
Save on products for your business and employees through your association's partnership with NPP.  Membership is free.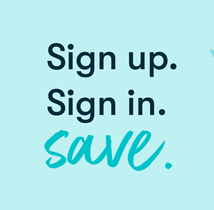 New to National Purchasing Partners:
Projul is an all-in-one construction management software that growing construction companies use to scale their business.  Projul gives construction companies the ability to:
Manage and schedule all project leads and active projects in one place
Easily create and send estimates, invoices and change orders
Contain and organize all pictures and project information into one place - not on worker's phones
Task workers and approve time logs for payroll purposes faster than ever
Sync to QuickBooks

Member Savings Programs
Join thousands of members who save money for their families and businesses.  As a member of your local and/or state home builders' association, you can take advantage of NAHB's member savings programs.
Exclusive Savings: As a benefit to members, NAHB negotiates on your behalf to offer the best pricing available at 20 national companies.  Click "Learn more" below to explore the variety of discounts from each company. You can also download an overview of all discounts, including phone numbers and program codes.
Support for Your Local HBA:  All products and services purchased by members through the member savings programs offer monetary support for your HBA. Last year, NAHB gave more than $700,000 to HBAs as a result of member participation in these programs.